PasarBella @ The Grandstand – Your Family-Oriented, Open-Concept Market Retreat
drive to eat
definition: to get to those ulu places via your car just for the food
This quite-ulu eating spot is inspired by markets around the world; PasarBella is an amalgamation of the quirky and rustic interiors of Covent Garden in London, and the rich aromatic scents of fresh, organic produce in Melbourne's Queen Victoria Market.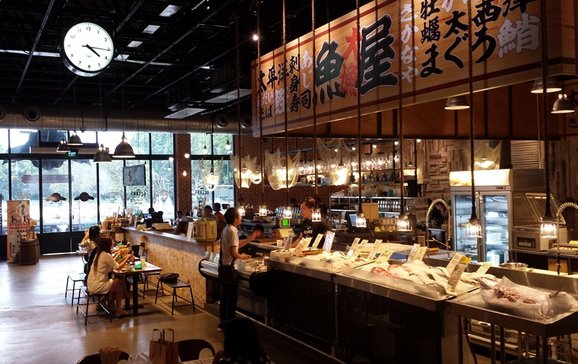 The name PasarBella is derived from the local term for 'Market' – 'Pasar', and the Italian term 'beautiful' – 'Bella'.
It's a family-oriented market retreat with the goal of being a warm, community-based, open-concept market.
As a premium grocery shopping destination, PasarBella stocks a wide range of both local and international brands that are extremely niche and exotic in nature. There are over 30 stores to visit and explore!
You can find the freshest seafood, meat, dairy and produce, to wines and craft beers, global cuisines and personal services. Visitors of all ages will be enchanted by the quaintness of a unique market experience, nestled within a family, lifestyle and dining enclave.
What People Say
"On the whole, the price is a bit on the steep side but quality is reasonable, the nice ambience is another attraction to consider visiting this place as well."
– ieatandeat.com –
http://mitsueki.sg/2013/08/02/a-day-out-at-pasarbella-a-farmers-market
"a place filled with ambiance will always appeal to my aesthetic side. Walking through the place, I had on occasions felt like I was in Sydney, London and even Tokyo. Somehow the jives from this place are both familiar and international . This mash up joint definitely appeals to anyone who had ventured overseas or for those seeking an experience similar to a trip aboard."
– thewackyduo.com –
http://www.thewackyduo.com/2014/05/pasarbella-grandstand.html
I've been to a couple of farmers market in the States and I feel that Pasarbella does have the essence of one, but not entirely. In fact, it feels more like a gourmet and organic foodie's haven
– mitsueki.sg –
http://mitsueki.sg/2013/08/02/a-day-out-at-pasarbella-a-farmers-market
Location & Parking
http://pasarbella.com/category/grandstand
From the Pan Island Expressway (PIE), take the Eng Neo Ave Exit (Exit 22). Turn right onto Vanda Link.
If coming by Bukit Timah Road, turn right onto Turf Club Road.
If coming by Dunearn Road, turn left onto Turf Club Road.
Over 3,800 FREE car park lots at The Grandstand – Main Car Park, North Car Park and South Car Park.